Search engine optimization — or SEO — has a propensity for generating myths and urban legends of epic proportions. One of the most unfortunate SEO myths is that it's something you only need to do once, like having your wisdom teeth out.
Regularly revising your SEO is much more like keeping your teeth clean and healthy. As long as you brush your teeth every day and show up for regular cleanings, you're in good shape. Once you stop, however, you'll start losing teeth.
Likewise, unless you keep up with your search engine optimization efforts, your website traffic — and subsequently your sales — will start to disappear the same way. What works today to propel your site to the top of Google's rankings may not work tomorrow. Continually adapting your SEO to address these never-ending changes is the only way to remain competitive.
Google Updates its Algorithms Constantly
Maintaining — and ideally, improving — your credibility with Google is the ONLY way to rank well in organic search results. And how do we establish and maintain your credibility with Google? With SEO.
Google updates its algorithms between 500 and 600 times each year. And although only a few of these updates affect the core rules, they all matter in how the search engines view (and rank) your website and online marketing presence.
Setting and forgetting your SEO is the surest path to becoming only a distant memory for Google.
Content Gets Stale
No matter how fresh and fabulous your website's content was when you first went live, it eventually starts to smell like three-day-old fish to Google.
That's not to say that you must rewrite the content on your site's main pages. You do, however, have to add fresh content regularly. The easiest and most cost-effective way to achieve this is by adding a blog to your website.
You can also add new product or service pages. This helps boost your search engine rankings for your core keywords as well as more specific, long-tailed key phrases.
However it makes most sense for your business, keep the fresh, high-quality content coming to make Google happy.
Your Business Grows and Changes
In years past, the way a company did business didn't change much over the course of many years, or even decades. The rapid advent of technology has changed that paradigm for everyone.
For example, you may begin offering your products for sale online in addition to your brick-and-mortar retail store. You may open a second office location or expand your sales into new geographic territories. Or perhaps you may develop a new suite of services designed to appeal to a growing demographic in your local area.
Any changes in your business require an update to your SEO. Otherwise, your ability to reach your expanded or changing markets will be significantly limited.
Your Customers' Needs Change
Although it may seem like Google is constantly making changes just to vex you, their changes are motivated purely by the needs of their customers — the searchers.
Google is virtually unrivaled in its success, so much so that no other search engine has been able to compete. Google is the best at what it does because they constantly change to adapt to the needs and demands of those conducting internet searches.
This is a great lesson in how to do business, and it brings us back to the topic at hand. What your prospects and customers need and want today will change — and continue to change — over time.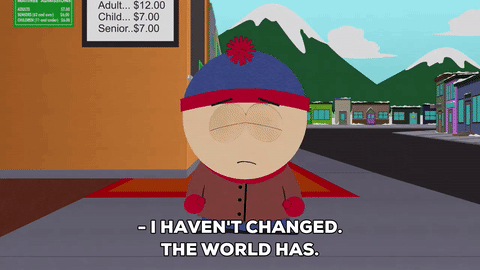 Now, before you argue that there's nothing new under the sun for plumbers (or auto mechanics, or whatever your relatively consistent industry may be), know that the changing needs of the customer are not always industry-specific.
For example, consider how most people conducted an internet search a decade ago (on a clunky desktop computer) as compared to today (on a smartphone or tablet). Within a year to two, most of your prospects will search with only the sound of their voice, using Siri or another virtual assistant.
Make sure your SEO adapts to stay current with your customers' needs, or you'll be left behind faster than a dot-matrix printer.
Your Competition Constantly Evolves
In any industry, healthy competition shapes the way companies do business. If your competitors find better ways to meet your prospective customers' needs, you must adapt or perish. SEO is no different.
When others in your industry change, your way of doing business changes as well. That may affect your keywords, website, content marketing, local SEO strategies or even your approach to social media management.
Great SEO Companies Know How to Keep You Ranking
For businesses of all sizes and types, ranking well with Google and the other search engines becomes more important every day. Business owners understand why this is important, but few understand how to accomplish this. And although most have heard of SEO and its importance, it has taken on the mysterious persona of a mythical beast or string theory.
And as is often the case, sadly, the industry is rife with opportunists hoping to capitalize on an enigmatic but very necessary service. Many of our clients come to us after spending their hard-earned money for SEO services that provided no benefits. Many more business owners abandon internet marketing and search engine optimization altogether after a bad experience.
The good news is that many online marketing companies are experienced and reputable, and they can help your search engine rankings. Even if you've had a bad experience, don't let it derail you. Just be sure to do your homework before hiring an SEO consultant, and think twice before you pay someone who cold-calls you with empty promises of a No. 1 ranking with Google.
Bottom Line: How Often Should You Revamp your SEO?
If anyone claims to have an easy answer to this question, they're peddling snake oil.
Every company, every industry and every locality is different. And because SEO isn't a single action, different aspects of optimization occur at different times. We optimize our clients' websites and their content, of course, but we also optimize through pay-per-click advertising, link-building and content marketing.
Ideally, your website should be designed specifically with SEO in mind — although you might be surprised how rarely this happens. But whether it happens during the design phase or after your site is up and running, the initial search engine optimization is simply a first step.
At a minimum, your SEO should be analyzed and tuned up every time that:
• Google implements a significant change in its algorithms
• Your business model changes (new product launch, new location, etc.)
• Your industry undergoes a fundamental shift
• Your customer profile changes or evolves
The other pillars of SEO — link-building, PPC and content — should be ongoing.
Like your website, effective content marketing and high-quality backlinks help improve your organic SERP rankings by providing fresh, engaging and relevant content. Content marketing is both powerful and cost-effective, because it allows us to "do SEO" with every new blog post, article or press release.
PPC advertising campaigns are designed to improve paid rankings, although this aspect of SEO isn't appropriate for every business. Also, PPC should be designed to augment your organic SEO, but never to take its place.
At Be Locally SEO, SEO isn't just a side dish on our menu of services — it's the main course, and it's meaty. Contact us today to learn more about how we can help grow your business and bottom line by "doing SEO" the right way.