In part one of this two-part blog series, we went over some basics on LinkedIn ads and their usefulness within online marketing and SEO areas. While most in the business realm know LinkedIn as a networking and connections platform, some are unaware of how vital this service also is for marketing and advertising.
At Be Locally, our wide-ranging online marketing services include a full range of social media services, from Facebook and Twitter to Instagram, Pinterest and, yes, LinkedIn. While part one of our series went over the entities who often utilize LinkedIn and some important cost factors, today's part two will go through a step-by-step approach to creating your LinkedIn ads and targeting them directly to the right audiences.
Campaign Manager
First and foremost, you'll want to create a campaign manager account, which LinkedIn makes very easy. From the homepage, click the "work" area and select Advertise, at which point you'll be invited to set up the manager account.
Goals and Target Audience
Once your account is set up, it's time to talk about general objectives. What are you trying to accomplish with your LinkedIn ad? Are you trying to build an email list, or sign up users for a trial product of some sort? Your goals are the foundation of what will be included in your ad, so you need to know what they are first.
And hand-in-hand with this process will be the identification of your target audience. This will depend on numerous factors, from your company size and type to user interests, groups, skills, job titles and more. There are specific sections within LinkedIn ads that will allow you to optimize for target audiences, including how your choices will impact the size of your market and click-through rates.
Ad Format
LinkedIn offers four ad formats to mix and match from:
Sponsored posts: Appear in user's feeds as prompts
Message ads: Sponsored texts send to inboxes
Dynamic ads: Ads that appear in the sidebar and can be customized to various demographics
Text ads: The simplest to create, offering pay-per-click (PPC) or cost-per-impression (CPM) options.
Budgeting Factors
Likewise, you'll have three distinct budget templates to choose from:
CPS: Cost per send refers to message ads only.
CPC: Cost per click allows you to pay only when people visit a landing page, register for an event or follow your business.
CPM: Cost per impression is the most robust budget format, especially for new brands looking to raise awareness.
Optimization
Finally, once all of the above elements are organized, you'll be ready to launch your LinkedIn campaign. However, be aware that the work isn't done – in fact, some of it has only begun. Using your live campaign statistics, such as impressions, clicks, actions and costs, you can spend time revising and optimizing your campaign to eventually find the best program.
For more on how to create LinkedIn ads that will benefit your business, or to learn about any of our social media marketing, SEO or other online marketing services, speak to the staff at Be Locally today.
Many in the business world understand how valuable a platform like LinkedIn is for themes like networking and business connections, but some aren't properly advised on how important the platform also is for marketing and advertising areas as well. LinkedIn is one of the single best platforms out there for creating business leads and reaching related targets, and one of the top approaches here is utilizing the platform's robust ad services.
At Be Locally, we're happy to offer numerous social media marketing services as part of our broader SEO and online marketing packages, including assistance with any part of LinkedIn advertising or related themes. What are LinkedIn ads, what are the business or individual entities who tend to utilize and benefit from them most, and how can you go about setting up a robust approach to LinkedIn ads if they fit your business needs? This two-part blog series will help answer these questions and more.
LinkedIn Ad Basics
Anyone who spends significant time on LinkedIn will have run into their ads at some point. Ads are mixed in on Google home pages, often seen in your feed with subtle "promoted" or other designations that signal they're ads.
In addition, text and image-based ads will also show up on the far-right rail of many LinkedIn screens, at least while being accessed via desktop or laptop. And furthermore, ads can even be delivered directly to a LinkedIn inbox as what's known as "sponsored InMail."
For advertisers, this means one simple thing: There are several ways to use LinkedIn to get your message out to many different target groups, even those that are not connected to one another.
Who Utilizes LinkedIn, and Why?
LinkedIn ads are popular across numerous fields, but particularly areas like B2B and professional services or products. Some specific industries they're often used in include:
Various financial services or courses
Professional training, workshops, seminars or postgraduate programs
Productivity or related apps
Business software, accounting services and related areas
Virtual assistant solutions
Consultant services
Web developers and other forms of online service
LinkedIn is great for growing brand awareness in several ways, from increasing content and video views to establishing yourself as a high-authority source in your industry – plus, of course, generating new leads and resulting sales. It's particularly useful for targeting those in the business world.
LinkedIn Ad Cost Factors
It's important to know that there is no singular set cost for LinkedIn ads. Rather, you and other advertisers looking to reach similar audiences will submit bids to LinkedIn when you launch your ad campaign – the more popular the target audience, the higher the bid will need to be. You will then also have to specify an objective as you set up the campaign, with seven possible objectives ranging from brand awareness and engagement up to lead generation, job applicants and more.
The average LinkedIn ad across all industries, however, costs under $5.50 per click and under $7.00 per 1,000 impressions – this is one of the lowest numbers of the major social media platforms, with several other controls that allow you to set a specific budget and stick to it.
For more on setting up LinkedIn ads, or to learn about social media marketing or any of our web design, PPC or other services, speak to the staff at Be Locally today.
In parts one and two of this multi-part blog series, we went over some of the many details associated with Google My Business and its importance for many areas of online marketing, especially local SEO. Abbreviated GMB, Google My Business is a vital area for online marketers to be aware of, particularly in terms of claiming their local listings and capitalizing from all the related resources available here.
At Be Locally, we're happy to provide clients with numerous local SEO services, including assistance with Google My Business as-needed. While parts one and two of our series went over some of the basics on setting up and managing your GMB dashboard, today's final entry will look into the specific steps that should be taken – often in coordination with our pros – toward utilizing GMB as one of your primary marketing tools.
Business Model and GMB Eligibility
First and foremost, you must clarify your simple business model – are you a brick-and-mortar business, a home-based business, a service area business or some hybrid type? This will usually be simple enough to define.
Once you've done so, you will be able to determine your specific eligibility for Google My Business. There are specific rules laid out in the GMB guidelines for how you will represent your business depending on which type it is.
Details and Claiming
Before you even create your profiles, double-check all the important details about your business: Name, address, operation hours, phone number, business categories and any other data that will be listed as part of the GMB profile. Ensure there are no errors or problems here.
Now it's time to create and claim a profile for each of the locations you will be marketing for your business – and there may be situations where you can set up additional listings even for a single location, such as if multiple departments are present. Consult the GMB guidelines and be sure you're providing accurate, quality information while creating profiles.
Managing Live Listings
Once you've pushed your listings live, you have to manage them. There are numerous tasks within this realm, from continuously analyzing your categories for performance to uploading quality photos, responding to reviews, populating Q&A sections, adding videos, keeping to a Google Posts schedule and also continuously investigating new features that might improve your listing performance.
Continued Education
Finally, your education with GMB is never truly finished. Google is constantly pushing out new features and changing how the platform works, and it's vital to keep track of this using social media, SEO newsletters and specific conversations with our SEO team, who will assist you with numerous GMB areas.
For more on Google My Business and how to utilize it to the greatest possible benefit, or to learn about any of our SEO, PPC, web design or other services, speak to the staff at Be Locally today.
There are several tools that will often play a major role in SEO and related online marketing efforts, and one of these that all business owners and marketers should be aware of is Google My Business (GMB). This is a free set of tools and dashboard interfaces that plays a huge role in local marketing and similar themes for businesses, and those who are not taking full advantage of it will simply be falling behind.
At Be Locally, we're here to help with this and numerous other local SEO, web design, PPC and related services. We've assisted hundreds of clients with GMB needs and solutions, from setting up their profile initially to optimizing several important areas within this realm. For those who are just entering the SEO world or setting up a brand new site, this multi-part blog series will dig into everything you need to know about Google My Business as you get started.
Google My Business Basics and Eligibility
To define it specifically, GMB is a layered platform that allows local businesses to submit information, manage areas like their reviews and client questions, and also publish various pictures, videos and posts related to their business. As Google is by far the largest search provider across the nation, GMB is therefore by far the most important such dashboard to be aware of.
Are you eligible to be listed within GMB? That depends completely on Google's stated guidelines, which are changed and updated regularly. If you're just getting to the point where you're looking to list your business, be sure to consult these guidelines in detail to steer clear of violations – said violations can lead to everything from small penalties up to listing removal in some cases.
Creating a GMB Profile
First and foremost, one universal requirement for setting up your GMB profile: You must have a Google account, which most already do. However, if your business does not have its own specific company account, we strongly recommend setting one up instead of using a personal account to manage the profile. If you're part of an in-house marketing department, GMB allows for the addition and removal of listing owners and managers as-needed.
Once you've confirmed a Google account that's eligible for GMB listing based on the guidelines we linked above, head to this link to get started. You'll be given a bunch of fields to fill out while creating your GMB profile, with a simple Google wizard showing you how to navigate everything. From there, you will have the option to verify your listing, something we definitely would advise you to do, as it allows you to control and edit the listing in the future. For larger companies listing multiple locations, there are also bulk upload and verification options here.
For more on Google My Business, or to learn about any of our SEO or other online marketing services, speak to the staff at Be Locally today.
In part one of this two-part blog series, we went over some of the preliminary basics when it comes to claiming your business listing on various online hubs. This practice, which is vital for improving the way your site is viewed by a variety of prospective clients, is very important across a variety of industries using SEO and other online advertising formats.
At Be Locally, we're proud to offer a wide variety of local SEO and other SEO services in addition to PPC, web design and several other parts of a comprehensive online marketing strategy. We've helped numerous clients with claiming their business listings and optimizing these areas, and we're here to do the same for you among our varied services. Here are some additional pointers and tips for this process.
Industry-Specific Listing Sites
We went over the three primary listing sites to consider in part one of our series, and virtually all business owners who are advertising online in any way should look into claiming their listings on these sites. In addition, though, it's important to consider the top listing sites for your specific industry.
Are you unsure what these sites are for your particular industry? Never fear. There's so much information out there in this field these days that all you have to do is search your industry on Google – look for phrases that relate to your specific business type to lead you in the right direction. Be sure to claim listings on at least the top couple review sites in your industry.
Basic Claiming Steps
Some naturally assume claiming a review listing is a difficult and complex process, but this actually couldn't be further from the truth. It's incredibly simple, with the following steps involved:
Search for your business on whichever listing site you're looking into.
If you find it, claim the business.
If you do not find it, add your business.
Fill in all relevant business information, then claim the business.
Now, this process will differ somewhat between each listing site. Be sure you keep track of different listings in a spreadsheet or another resource, with the date you submitted them and other important information.
In addition, there are modern automated services that manage local business listing data available. Speak to our team about these.
Mistakes to Avoid
A few clarifications and errors to avoid during this process:
While many business owners arrange for third-party listing management, don't allow listings to be claimed under any account besides your own. In such a situation where your relationship with that third party ended, this party would control your listings instead of you.
"Claiming" a listing is not the same as "owning" it. Only the listing site in question owns their reviews, but you can claim it and give yourself the right to manage it.
For more on claiming your site's review listings, or to learn about any of our SEO marketing services, speak to the staff at Be Locally today.
The internet is the single largest resource for consumers looking for local businesses and services, and it's vital for businesses to control what consumers are seeing about their business. There are several tools and areas to pay attention to here, with one of the largest being various listing and review sites present on the web.
At Be Locally SEO, we're proud to offer a variety of local SEO services, from optimization and keyword targeting to web design, PPC and social media marketing themes. One of the most important concepts with controlling what consumers see about your business is what's called "claiming" your business listings and reviews – this two-part blog will go over the basics on listing and review sites, which are most important for claiming and how this process works.
Listing and Review Site Basics
The business world has gone digital over the last couple decades, and this has expanded the network of individuals who judge and review a business. While this used to just be determined by a small number of industry-specific critics (think food critics for restaurants, for instance), online listings allow for far more people to review or otherwise judge a given business establishment, then post their opinions for others to read.
And with so many others looking for recommendations online, these reviews tend to be well-read. For business owners and marketing managers who are looking to improve the way their business appears online, one of the biggest factors is claiming the business on these listings or review sites – which really just refers to letting the site know that you are the owner of a business so they can update your information.
Important Listing and Review Sites
In many cases, businesses will be listed online but not claimed because a customer entered the information after visiting your business. With any luck, your information will be accurate – but if it isn't, you have to claim it so you can control this realm.
Now, those with experience in this realm may have a major question at this point: Which sites should I claim my business on? There are literally thousands of review sites out there, so it can be hard to know which to prioritize. Generally, though, three stand out above the rest:
Google My Business: The top single search and listing site to be sure you claim your business on is Google and Google My Business. This is the largest search engine on earth and should be prioritized.
Facebook: Trailing only Google for overall platform use, Facebook is mainly a social site – but has numerous business benefits, from customer connections to reviews and ratings on your business page. Many such reviews show up near the top of Google searches.
Yelp: Yelp is one of the most trusted and well-known review sites in the US, available for both for-profit and nonprofit businesses across numerous industries. Once again, Yelp reviews often come up very high on Google searches, which you can also use to find out about how competitors are listing their own businesses.
For more on listing and review sites and why claiming them is important, or to learn about any of our search engine optimization or other services, speak to the staff at Be Locally SEO today.
Do you believe that organizational culture is an ambiguous term bandied about only by idealistic MBA students? If so, you're not alone.
Business owners — particularly entrepreneurs and those who run small-to-medium-sized companies — often feel they have too much on their plates as it is without worrying about a buzzword that seems more appropriate in an academic setting than in the real world.
What we have come to realize, however, is that organizational culture does matter. And if you create the right culture within your company, it can help your business succeed in ways you might never have imagined.
In fact, your company's culture can even influence the success of your digital marketing efforts.
What Is Organizational Culture?
First, let's consider what this term means generally, and what it means in your company.
Organizational culture arises from the shared assumptions of everyone in your company and the way those beliefs influence behavior. Shared values and beliefs form the basis of a company's culture, along with rituals and physical elements such as your office facility, your logo and the actual work product or service you produce.
Good or bad, company culture influences everything that happens in your company — but it doesn't stop there. Your company's shared values, beliefs and practices define you in the eyes of your customers, prospects and members of your community.
How Organizational Culture Influences Your Employees
Culture influences everything your employees do and say, from the documents they produce to the phone calls they have with customers. It influences the way they view the company as well as how they talk about their job and their employer.
Decades of research proves that a positive organizational culture enhances employees' motivation and commitment and improves the efficiency of both group and individual work. A positive culture facilitates productive communication and reduces conflict. It also minimizes errors, because when your company culture is evident throughout the organization, employees understand what is expected of them and act accordingly.
A positive culture engages employees. It makes them eager to come to work every day and even more eager to do their very best work. It helps ensure they speak well of your company to friends and family and motivates them to behave in ways that reflect positively on the organization.
A strong culture will also help you attract the top talent in your industry and retain them, reducing the costs and headaches associated with turnover.
Your Customers Care About Your Company's Culture Too
If you've ever patronized a business where the employees were surly, irritable and generally unhelpful, you were likely viewing the fallout of a negative organizational culture. And you probably made the decision to avoid patronizing that business in the future, if possible.
Scientific research shows us that an ethical organizational culture improves both customer satisfaction and the financial performance of the company. This factor is also highly influential in establishing a positive brand identity and differentiating yourself from the competition.
If you compete with dozens (or hundreds) of businesses that do what you do at approximately the same price point, how can you make your company stand out?
When you focus on developing a strong organizational culture based on ethics, innovation, passion, excellence, integrity, service — or whatever your driving passions may be — you will demonstrate the true value of doing business with your company.
The Role of Organizational Culture in Digital Marketing Success
It makes sense that a company's culture influences employees as well as prospects and customers. But how can it possibly influence your digital marketing efforts?
The reality is that every stakeholder your company has — including owners, officers, shareholders, customers, employees, vendors, consultants and your community — is affected by your organizational culture. If you aren't committed to a marketing strategy that aligns with your core values and beliefs, you won't enjoy the success you otherwise might.
For example, if your company culture emphasizes quality and attention to detail, you shouldn't have misspelled words on your website or a blurry, low-resolution logo on your marketing materials. If you declare your commitment to innovation and cutting-edge technologies, your website should load quickly and work equally well across desktop and mobile platforms. If you're committed to ethics and honesty, you wouldn't want to buy phony reviews or fake customer testimonials.
If you're committed to using SEO and other digital marketing technologies to meet your company's revenue goals, you have to reflect that commitment in your corporate culture. This means addressing any doubts about whether your website and social posts influence your brand identity or whether SEO actually drives site visits, conversions and sales.
How Can You Create a Culture of Success for Your Business?
Culture develops from the top down. That means you must define your values and decide what kind of environment you want to create within your company. You must hold every member of your organization to the high standards you set — including yourself and every member of your leadership team.
You can publish aspirational mission statements and hang motivational posters throughout the office, but unless you personally embody these concepts yourself, all day every day, your team will know you're trying to sell them a bill of goods.
Establish rituals, give rewards and use a workplace language that nurtures your culture and keeps it at the forefront of everyone's mind.
A popular example of how to create an organizational culture that drives success is the discount warehouse pioneer Costco. Likewise, Netflix, outdoor outfitter REI, Whole Foods and Southwest Airlines have all made a name for themselves by forging strong corporate cultures.
Here at Be Locally SEO, we have built our organizational culture around a commitment to helping our clients succeed, whatever their goals may be. Innovation and a truly customized approach mean that we design a digital marketing strategy around your needs, wants and objectives — as well as your budget.
Contact us today to learn more about our comprehensive suite of online marketing services, including website design, SEO, PPC, social media and content marketing. We are standing by to help you succeed in creating a dynamic and highly effective digital marketing culture for your organization.
So you've engaged an internet marketing company to help take your business to the next level of success. Congratulations! This step represents a well-placed investment that will help you realize your goals for revenue growth and profitability.
As a savvy business owner or marketing manager, you understand that you must develop a strong online presence to capitalize on the overwhelming trend of consumer behavior that relies on internet searches for purchasing decisions. Otherwise, you will fall behind your competitors who recognize that digital marketing strategies are the key to success today.
Unfortunately, many business owners take the "set it and forget it" approach, once they place their trust in a digital marketing expert. In doing so, they may cheat themselves out of the truly spectacular results they could get if they engaged — at least to some degree — with their internet marketing company.
Why Should You Get Involved in the Internet Marketing Effort?
When you hire an SEO company or digital marketing firm, you trust that they know exactly how to propel your company up the Google page rankings to get you into the highest possible spot in the search engine results.
Although that belief is well-founded, there's one topic that your digital marketing consultant is not an expert in: the unique characteristics of your business.
An SEO expert may know all there is to know about your industry and your geographic location, but they don't have your knowledge, expertise or insight into your company's unique take on the products or services you provide.
When you get involved — even just a little bit — with your digital marketing, you can boost the efficacy of these efforts and increase your return on investment (ROI) significantly.
So what's the best way for you to get involved, to help your internet marketing firm help you even more? It just so happens that we have some insight into this question!
No. 1: Boost Your Internet Marketing by Sharing What You Do
You're on the scene day after day, seeing the fruits of your company's efforts firsthand. Your internet marketing company doesn't have the benefit of this insider perspective, but with minimal effort, you can help them develop a more in-depth appreciation for what you do.
The best way to accomplish this is to document the work you do with photographs and descriptions.
For example, if you're a flooring contractor, take some photos of a completed job you're particularly proud of. Add some notes to explain what's in the photos and ship them off to your SEO specialist. This will help their team gain a better appreciation for the value you deliver to your customers.
If you provide a service (rather than a product), you can share real-life anecdotes of how you helped a particular client. Or you might send along some live-action shots of your team working with clients or putting their heads together to solve a particularly challenging issue.
The more insight you can share, the more your SEO company can tailor their efforts to reflect the value you deliver to your customers every day.
No. 2: Offer Constructive Feedback to Your Internet Marketing Team
SEO experts do a LOT of work in the background to make your digital marketing efforts a success. It takes tons of time and effort to bring your website up to the top of the search engine results pages. But although they are subject matter experts in their industry, chances are they aren't as knowledgeable about what you do.
With just a little time and effort, however, you can help them develop an in-depth understanding of what you do.
Take just a little time to review the content they create on your behalf — including website content and blog posts — to determine whether they're on the right track. Providing feedback on industry-specific terminology is especially beneficial, but you'll help boost the marketing effort substantially if you take the time to explain why you request changes or edits.
At Be Locally SEO, we invest significantly in the content we create for our clients. But when we have your feedback about how we can improve our efforts on your behalf, we gain critical insights into how we can tailor our efforts to better suit your needs.
No. 3: Get Social to Boost Your Internet Marketing
Digital marketing and SEO optimization go a long way to boost your position in the search engine results, but you can help even more by getting active on social media.
Social media is unique in that it allows you to communicate directly with your audience. If you doubt how effective these platforms are, just look at how many followers famous actors and musicians have on platforms like Twitter, Instagram and Snapchat. Facebook is also extremely effective for reaching both qualified prospects and your existing customers.
At Be Locally SEO, we help our clients with social ads, but you can help boost the effectiveness of these and other digital marketing efforts by doing your own social media posts. The more active you are on social media, the more reach you will develop.
We are happy to help you identify the most effective strategies to use for your social media posts, but you'll truly shine when you have fun and engage with your audience. You might be surprised at how effective this can be for growing your business.
No. 4: Provide Your Internet Marketing Company with Critical Information
If you engage a digital marketing company to assist you with web design and development, content creation, email newsletters or other internet marketing activities, make sure they have all the information they need to do their jobs.
As soon as you engage the services of an SEO company or internet marketing consultant, ask what they need from you to do their job.
For example, they might want your digital logo artwork, your email database and your login credentials for your website. However, depending on the services you have requested, they may need specific information about your products, services and areas served.
You're making an investment in your company and your future by trusting an SEO company to help you. Make sure they have everything they need from you as soon as possible and you can substantially increase your return on investment for their services.
This leads us to our next tip: communication.
No. 5: Communicate with Your Internet Marketing Consultant
Once you give your SEO expert the go-ahead, you might believe you're off the hook for the future. In reality, however, you should embrace the communication process that's necessary for your internet marketing consultant to deliver for you.
Be responsive to questions and inquiries, because without your valuable input, their SEO team won't have the information they need to do the best possible job for you.
Share with your digital marketing company how you prefer to communicate, whether that's email, phone or text. They understand how busy you are and they will be respectful of your time. Realize that, when they ask questions or request information from you, they're only trying to deliver the results they promised — and that you deserve.
No. 6: Respect the Scope of Your Internet Marketing Services
When you engage an internet marketing specialist, take the time to understand the scope of their services and endeavor to work within those constraints.
Many digital marketing consultants try to provide their clients with a more loosely structured suite of services. In other words, they often provide services that aren't officially a part of their agreement. But it's important to understand that whenever you ask your SEO company to undertake a task outside their scope of work, they may have to redirect from another important pursuit.
When you take the important step of engaging an internet marketing expert to assist you, take the time to determine what services they provide. If you are willing to work within those constraints, you will get a much more successful outcome than you might if you try to push the boundaries of their scope of work.
No. 7: Take Point on Driving the Direction of Your Internet Marketing
Yes, your digital marketing company will make suggestions and recommendations based on their knowledge and expertise. But as we have already established, you are the consummate expert when it comes to your business and it is your absolute right to determine the direction of your internet marketing efforts.
Don't be shy about sharing your thoughts and feelings on the direction your digital marketing efforts should take.
Like any consultant, your internet marketing company works for you. But ultimately, you are responsible for building your business. Leverage the services they can provide, do your part to provide them the tools they need and request, and you will reap the benefits many times over.
Be Locally SEO provides expert SEO and digital marketing services to clients in Utah and throughout the United States. We tailor our service offerings to help you meet your business growth and revenue goals. Contact us today to learn more about how we can help you achieve your objectives with our internet marketing services.
Google My Business (GMB) recently introduced a powerful messaging feature that puts you in touch with your customers when they need you the most.
The GMB functions already provide businesses with a suite of powerful — and free — tools to attract and connect with customers. With the new messaging feature, your ability to capture new customers through the Google platform increases exponentially.
Let's look at how this feature works and how you can leverage it to build your business.
What Is Google My Business (GMB)?
We previously looked at the power of Google My Business and how it can help prospects find and connect with you.
This online marketing tool is designed to provide all the important information about your company to anyone who does a search on your business, or on terms that fit your business model and location.
If you're the owner of Cathy's Cookies & Cakes in Layton, Utah, and a nearby prospect searches for Cathy's Cookies, they will be directed to your GMB listing. If someone else searches on terms like "bakery near me" or "bakery Layton Utah," they may also be directed to you.
Best of all, Google provides this service to business owners for free. This tool capitalizes on Google's local and hyperlocal search functionality and translates especially well to mobile platforms.
If you have optimized your GMB listing correctly, your prospects will have all the info they need to visit your location, go to your website or contact you by phone.
They can also message you directly — and immediately — from your GMB listing.
What Is Google My Business Messaging?
With GMB Messaging, you have the option to give your prospects a link to contact you directly through the GMB interface. Messages come to you via SMS (text) messaging, using a phone number that you designate in your GMB profile.
When you activate this feature in your GMB listing, your prospects will see a notification that says, "This business is available to message." It will also advise them of your average response time. When they click the link and type their message, it will come to your phone just as though you were receiving a text message.
How to Set Up Messaging on GMB
The setup process is simple.
Login to your GMB profile and choose "Messaging" from the Home menu. Add the phone number you want to use. Google will send you a confirmation code by SMS. Once you enter it into the GMB interface, make sure the "Chat" option is set to "on."
Finally, enter the welcome message you want your customers to see when they initiate the chat process.
If you want to turn off GMB Messaging at any time, simply set the Chat option to "off."
The Nuts and Bolts of Using GMB Messaging
When you turn on GMB Messaging and specify a number, prospects can contact you this way at any time, day or night, weekdays and weekends.
You can provide any number you like, even your personal cellphone, because GMB will display a relay number assigned to your GMB profile rather than the actual phone number you use. The prospect can save this relay number to their contacts and use it in the future. Likewise, you will see a relay number for them, rather than their true phone number.
You have the option to change the phone number used for messaging, so if you go on vacation, for example, you can change the number to someone else assigned to respond in your absence.
What businesses may want to consider is having a dedicated mobile phone just for GMB messages. That way, you never have to change the number in your profile. Instead, you and your team can pass the phone around, based on who is on response duty.
Google also offers a chat app you can use, Allo. You can install this app on your phone (iOS or Android) and tablet, and you can also use it from your laptop or desktop computer. For some businesses, this is a preferable approach.
Whether you use your phone or the Allo app, you can set up an automated response to display to prospects who message you, in the event you can't respond to them right away. However, the faster you get back to them, the more likely they will be to do business with you.
For messages that come to you outside of business hours, you might consider an automated response that explains you are currently closed, but that someone will get back to them as quickly as possible. If you have a business that provides emergency response services, you could also include your off-hours or emergency contact number in your auto response.
Getting the Most from Google My Business Messaging
After using GMB Messaging for a few days or weeks, you will determine the best protocols for getting the most out of this tool.
However, it may be best to transition the dialogue to another platform, such as your business phone or email, as soon as possible. This is especially true if you need any sensitive information from the customer. This will help ensure that you keep your customers' data safe.
At this time, we don't know how (or if) Messaging will affect organic SEO. Google will continue to update and change the functions of Messaging, and ideally, add the ability to schedule when chat is available.
We will update you here as any changes roll out.
Be Locally SEO uses GMB Messaging and other Google platforms to help our clients improve their position in both organic and paid searches. If you would like to learn more about how our comprehensive SEO and online marketing services can help you grow your business, contact us today to speak to one of our internet marketing experts.
Customer testimonials are some of the most powerful marketing tools you can use to build your business.
Whether you use these influential — and highly cost-effective — customer endorsements on your website, in your social feeds or in print, you can get a lot of bang for your buck. But there's one catch: They have to be really great.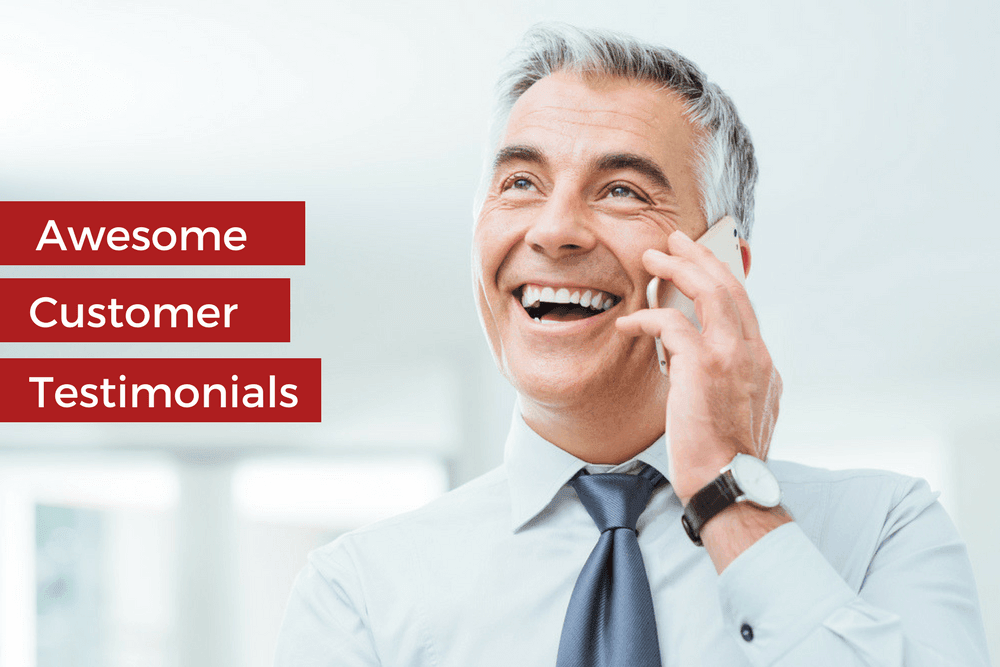 So, what makes a great testimonial? And how do you get a few dozen of them? It's easy if you know the secret.
What Makes a Great Testimonial?
Let's answer this question by first looking at what doesn't make a great customer testimonial.
A certain Phoenix law firm runs a TV commercial on regular rotation in the local market. In the commercial, they feature a single client giving a video testimonial. She says, in total, "Oh, I just love them. They are so personable!"
Although the sentiment is lovely — and it's nice to know they're a personable group of lawyers — it does little to convince the viewer to pick up the phone. The cost for running this less-than-persuasive endorsement could certainly have been better used elsewhere.
A great testimonial helps to convince the reader (or viewer, if it's in video) to buy whatever product or service you're selling. It should be sincere and believable, but most important, a great testimonial expresses — specifically and in the client's own words — how you solved that customer's most pressing problem.
So how do you get amazing testimonials from your customers?
Why Getting Great Customer Testimonials Is a Challenge
Most business owners struggle to get any customer testimonials at all, let alone good ones. A familiar axiom says that a dissatisfied customer will tell 10 people but a satisfied customer will tell only one. The research shows that those numbers are closer to seven and three, but you get the idea.
In today's online-focused world, leaving negative reviews has become something of a sport. But when the product or service is good, we are less motivated to tell someone. You can chalk this up to busy lives, short attention spans, or more likely, simply not realizing how important our endorsements are for the businesses we patronize — and often adore.
If you ask your customers for testimonials, many will be more than happy to oblige as long as you time your request correctly. Unfortunately, most of them won't know how to say what you want to hear. So like our law firm example above, you're likely to end up with a glowing endorsement of your social skills rather than the value you provide.
Fortunately, the solution to this quandary is easier than you think.
Step 1: Time Your Request for Customer Testimonials
Instead of waiting around and hoping your happy customers leave you a review or a testimonial, you must ask for it.
No, you can't send out a mass email asking every customer to write a testimonial. You must ask shortly after a transaction. That way, the details are still fresh in the client's mind.
You have a customer follow-up system in place, right? If so, simply make your request for a review or testimonial a part of your follow-up. If you don't usually follow up, this is a great time to implement this important customer service tool.
When you contact the customer to follow up, first make sure they are satisfied with the transaction. (Otherwise you might not like the review they leave.) Once you're sure they're happy, ask if you can send them a link to leave a testimonial. Assuming they agree, get your request out to them ASAP.
Now, let's take a look at how you ask for a customer testimonial.
Step 2: Identify Your Benefits to the Customer
Before you ask a client for a testimonial, put yourself in their shoes for a moment.
Think specifically about how you helped this customer with a problem they were having. This might require getting creative, because you may not see your business from the customer's perspective. But the key is to think about how you can quantify your service to them.
Some services are easier to quantify than others. Real estate agents have it easy, and so do attorneys and tax accountants. For others, you'll have to get creative.
Are you a garage door contractor? Maybe your repair team helped a good customer make it one more year before having to replace their old door — saving them $1,200.
Are you a physical therapist? Maybe your sports rehab therapy helped a client recover from knee surgery quickly, getting them back to training in four months instead of six.
Do you teach dance classes for children? Maybe you turned that gawky little angel into a burgeoning prima ballerina after just six months of classes.
Whatever your benefit was to the customer, figure it out — because you're going to remind them of it when you ask for your testimonial.
Step 3: Remind the Customer Why You Deserve a Testimonial
Send your follow-up note to the customer as quickly as possible after you speak to them (think in terms of minutes or hours, not days). Thank them for allowing you to follow up and for agreeing to provide you with a testimonial.
Now, hit them with the goods. That is to say, remind them why you're amazing. Like this:
"Hello, Mrs. Jones.

Thank you for taking the time to speak with me today. Your satisfaction is very important to us here at Garth's Garage Doors. It was great to learn that our technician successfully repaired your garage door last week, because even though we have the best prices in West Jordan, installing a new door generally runs around $1,200.

I'm so glad we were able to save you that money!"
Now that you've primed them with your greatness, you're ready to request that testimonial.
Step 4: Give Your Customer Writing Prompts
Go on with your note:
"As we mentioned this morning, it would mean a lot to all of us to have a testimonial from you. You've been a valued client for eight years and your kind words would mean a lot to my team.

All you need to do is answer these three quick questions.

1. What was your reason for needing our services recently?
2. What was your favorite part about how we responded to your problem? (Be specific!)
3. If you were to tell a friend or family member about us, what would you say to them?"
The theory behind these three magic questions is best left for another post (hint: psychology), but suffice it to say, they should get you what you need in a testimonial almost every time. You can modify the questions to suit your business model, but keep in mind that you're asking them to tell you, in a positive and specific way:
What their problem was
How, specifically, you solved that problem
How they feel about you, in their own words
Step 5: Follow Up with the Customer
Regardless of whether you receive your testimonial, follow up with your customer in a few days.
If you received the testimonial, follow up to say thank you. If they provided a glowing endorsement, you might consider asking if they would stop by your location one day and record a video testimonial for you.
But if they haven't yet provided their testimonial, don't push too hard. The last thing you want is to make the customer feel obligated or put-upon. Drop a quick note to them, thanking them again for being a valued customer and for taking the time to speak with you. Tack on a little P.S. that says, "If you're still interested in giving us a testimonial, we would love to hear from you," and leave it at that.
If you follow these five steps with every customer, you will soon find yourself with more testimonials than you can imagine. As for how to use your customer testimonials, you'll be surprised at how much benefit you will derive from the sincere words of a satisfied customer.
Be Locally SEO understands the value of social proof (like customer reviews and endorsements) for growing your business. In addition to providing expert SEO services to our customers, we also offer website design and search engine marketing (SEM) services. For more information or help with customer testimonials, contact us today.